Day 1
TBILISI
Arrival in Tbilisi. After passing through passport control, a meeting with a guide at the Tbilisi International Airport and transfer to the hotel.

Hotel accommodation

Free time – walk in the evening Tbilisi

A meeting dinner from Vita Travel company in a Georgian national restaurant with a show program (included in the price).

Overnight at a hotel in Tbilisi
Day 2
TBILISI
Tbilisi Tour
During the tour you will have the opportunity to get acquainted with the sights of the city, visit the architectural and historical monuments that reflect the 1500-year history of the capital. The old city is characterized by a peculiar architecture, residential buildings are distinguished by balconies with Georgian carvings, narrow, cobbled streets. It is significant that in the old city, there are temples of six different faiths.
Today you will see the architectural wonders of the capital:
Metekhi Cathedral – founded in the 13th century. In the temple is the burial place of St. Shushaniki, the first Georgian martyr. And next to the church there is a monument to the founder of the city of Vakhtang
Gorgasali. Metekhi is a true symbol of the Georgian faith, culture and history. A visit to the building of the Italian architect, the face of modern Tbilisi – Peace Bridge.
On the left bank of the bridge is the temple of Sioni, laid back in the 6th century. The venerable age of the temple is also evidenced by the fact that its floor now lies almost three meters below the surface of the pavement.


Next, on a new lift, you and we in just a few minutes will find ourselves at the Narikala fortress, where we will have breathtaking views of the capital of Georgia.

The Narikala fortress is a citadel in the heart of the old city; for 15 centuries, it has been the main military defensive structure of the city.
A walking tour of Tbilisi also includes visits to the following places:
Abanotubani quarter – from here begins the history of the construction of Tbilisi, because "Tbili" in Georgian means "warm". Having discovered these sources, King Gorgasali ordered the construction of a city here. In ancient times, these sources were attributed to the magical properties of healing, but now everyone knows the benefits of sulfur baths.
Legvtahavi waterfall
Puppet Theater named after Rezo Gabriadze

Free time

Rest at the hotel.
Day 3
TBILISI – BORJOMI – RABAT – VARDZIA
Breakfast. Eviction from the hotel. Early departure

Borjomi is a resort city in Samtskhe-Javakheti, a region in southwestern Georgia. The city is famous for its Borjomi mineral water, which occupies the first export position in Georgia. Located in the Borjomi Gorge of Kura, at an altitude of 800-850 meters above sea level. This is a resort surrounded by mountains that are covered with forests. The name of the city comes from the words "Borj" ("fortress wall") and "Omi" ("war"). According to an ancient legend, Borjomi was founded as a natural fortress, the walls of which were the Caucasus Mountains. To protect against enemies, watchtowers were built on the slopes of the gorge, the remains of which exist to this day.
Arrival in Borjomi. Walk around the famous Borjomi park, where you can drink Borjomi mineral water directly from the sources.


Sightseeing tour of Borjomi

On the way we pass the Meskheti region – in the Middle Ages this region was the cultural center of Georgia. According to the poet Shota Rustaveli, it is from here that he came from. Inspection of the monuments of medieval architecture – the restored Rabat fortress and the mosque in Akhaltsikhe.
Then we visit the cave city of Vardzia, which is considered one of the main attractions of Georgia: a high rock rises above Kura and in its sheer wall, like floors, dozens of natural and man-made caves are visible. Moreover, if there are dozens visible from the Kura shore, then in fact there are hundreds of them – the rocky city consists of about 600 caves of natural and artificial origin and stretches along the river for about a kilometer. Vardzia is the Georgian "golden age".


Return to Borjomi




Hotel accommodation
Day 4
BORJOMI – KAKHETI – SIGNAS – BODBE – CHUMLAKI – GREMI – KINDZMARAULI – KVARELI
Breakfast. Eviction from the hotel. Early departure

Departure to the wine region – Eastern Georgia – Kakheti. A visit to the Bodbe Convent, where the grave of St. Nino, the enlightener of Georgia, is located. Here the healing spring in the cave beats, where pilgrims bathing is organized (we don't go down to the spring).

Next we visit the city of love – Sighnaghi, a small very beautiful town surrounded by walls, famous for its unique architecture. The city offers stunning views of the famous Alazani Valley and the Caucasus Range
Departure to the heart of Kakheti, Chumlaki estate. Qvevri wine tasting in Getiashvili family wine cellar.

Lunch with Kakheti kebab and wine, a feast for Georgian songs. Master class on cooking khinkali, Georgian bread.




Participation in Rtveli

Moving to Kvareli – visiting the Gremi fortress (16th century), which flaunts against the backdrop of the Caucasus mountain range and whose brightly turquoise dome can be said to merge with the sky, medieval frescoes are perfectly preserved in the main church of the Archangels.
On the way to Kvareli, we will visit one of the famous Kindzmarauli factories, where you can get acquainted with the technology of making real Georgian wine, and of course a wine tasting, the taste of which is unforgettable.

Rest in a hotel in Kvareli
Day 5
KVARELI – NEKRESI – LAGODEKHI RESERVE – KVARELI
Breakfast at the hotel.

Visit Nekresi

Nekresi and the monastery complex (founded by one of the Syrian monks, St. Abibo Nekressky. Represented by several churches and other monastery buildings);

Sending towards Lagodekhsky reserve


In the eastern part of Kakheti, at the foot of the Central Caucasian ridge, near the small town of Lagodekhi, the reserve of the same name is located. It is unique in its beauty and is considered one of the oldest in the country.

Lunch with barbecue and wine in the Lagodekhi Reserve (included in the price)

Rest in a hotel in Kvareli
Day 6
KVARELI – TSINANDALI – GOMBORSKIY PASS – ANANURI – KAZBEGI
Breakfast at the hotel

In Kakheti, we also visit Tsinandali – the famous wine-growing village of Kakheti, the famous winemaking center, where the same family estate of princes Chavchavadze is located. The estate, now the house-museum of Chavchavadze, where the interiors, furniture and personal belongings of the princes are preserved. The house-museum is surrounded by a magnificent park with a chapel, in which Alexander Griboedov was married to Princess Nina Chavchavadze. Alexander Chavchavdze was the first to establish European-style wine production in Georgia. Inspection of the residence, park and enoteca. An old winery, still open today, visiting the cellar with a winery, a unique collection of wines, the oldest of which is Polish Honey dating from 1814.


Through the picturesque Gombori Pass, we are heading from Kakheti towards Kazbegi along the Georgian Military Road – the historical name of the road through the Main Caucasian Range, connecting the cities of Vladikavkaz (North Ossetia) and Tbilisi (Georgia). Length 208 km.

Ananuri – Zhinvali Reservoir A hydroelectric power station on the Aragvi River (a tributary of the Kura River) in Georgia near Zhinvali. The first hydropower unit was launched in 1985. In addition to generating electricity, it performs an important function of water supply in Tbilisi.
Ananuri fortress is located in Georgia on the Georgian Military Highway, 70 km from Tbilisi. Ananuri fortress served as the main stronghold for the formidable Aragwa eristavs, the rulers of this region. The fortress dates back to the early feudal era and served as an outpost of defense, blocking the road leading from the Darial Gorge. There was also a customs post between north and south. Ananuri Castle has been a UNESCO World Heritage Site since 2007.


Further, passing the Gudauri ski resort (2200 meters above sea level), a stunning trip along the Tergi River, through the cross pass (2400 meters above sea level) will lead us to the Kazbegi mountains.




Rest in the hotel Kazbegi
Day 7
KAZBEGI – GERGETI -MTSKHETA – JVARI – TBILISI
Breakfast at the hotel.

The main decoration of Kazbegi and its symbol is the Trinity Church on the mountain above the village of Gergeti, which is part of the village of Kazbegi, now called Stepantsminda, where the Cross of St. Nino was once stored. The temple is picturesquely located on the background of Kazbek, directly above the village of Stepantsminda.

Jeep tour to Gergeti.

We are returning to Tbilisi.


On the way, visit the ancient capital and religious center of Georgia – Mtskheta and its historical monuments: Jvari Monastery (6th century) and Svetitskhoveli Cathedral (11th century), which are UNESCO World Heritage Sites. Walk along the traditional streets of Mtskheta, which are decorated with bright benches and friendly locals. The city of Mtskheta is one of the oldest cities in Georgia. The city is located at the confluence of two rivers – Aragvi and Kura. Mtskheta is one of the oldest inhabited cities in the world. It was the capital of the Ancient Iberian kingdom in the 3rd century. BC. – 5 in. AD Mtskheta was an important part of the great Silk Road. The city was the religious, cultural and political center of the entire Caucasus.
Jvari is a Georgian monastery and temple of the 7th century. It is located on the top of the mountain at the confluence of the Kura and Aragvi near Mtskheta – where, according to historical sources, the holy Equal-to-the-Apostles Nina erected a cross.
Visit Svetitskhoveli Cathedral, which is known as the burial place of the tunic of Jesus Christ.

Arrival in Tbilisi.

Free time

Rest in the hotel Tbilisi
Day 8
TBILISI
Breakfast at the hotel

Visiting the economic market (bazaar). The bazaars in Tbilisi are an absolutely amazing place. Here you will see mountains of a wide variety of fruits, vegetables, herbs, seasonings, suneli and spices … Meet the long rows of various cheeses – guda and sulguni, corn flour for gomi (cornmeal porridge), churchkhel of different colors and tastes.

Next we go to the famous "Dry Bridge" (souvenir market).


The Dry Bridge is the main antique market of the city, and also it is in the open air. It was part of the bridge connecting the right and left banks of the Kura. The bridge was named Mikhailovsky in honor of Count Mikhail Semenovich Vorontsov. Here you can find absolutely everything: antiques, jewelry, plates and cameras, watches and dishes. Only from here you can bring truly unique handmade items, and you will know for sure that they are made in a limited edition.




Transfer to Airport
Departure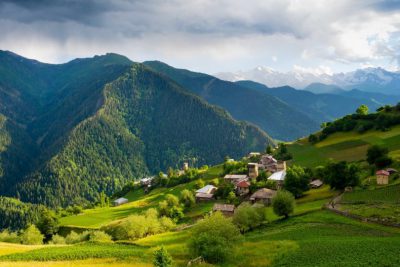 | Hotels 3 *, 4 *, 5 * Accommodation DBL | 2 per. | 4 per. | 8 per. | 12 per. |
| --- | --- | --- | --- | --- |
| Price for 1 person | 840$ | 720$ | 690$ | 650$ |
The price includes:
7 nights accommodation in Hotels with breakfast

Private Transfer Airport-Hotel-Airport

Services of an accompanying individual guide along the entire route (except for a free day)

Individual Transport service throughout the tour (except for a free day);

Wine tasting, Georgian feast in the family wine cellar Getiashvili.

All entrance fees to visited objects (museum, churches, wine cellars, other attractions)

Guide services for the program.

Lunch with barbecue and wine in the Lagodekhi Reserve

Jeep Tour in Kazbegi

All lunches and dinners included in the program price

Mineral water in transport throughout the tour

Guide and driver accommodation in regional hotels, daily expenses and fuel for transport
The price NOT includes:
Flights

Lunches and Dinners outside the program

Out-of-alcohol drinks
Additional expenses that are not included in the tour program